We've had several requests to share the updates we did to the Airstream before we moved in and so, here we go! When we first had the opportunity to see Ally, we knew that we would likely be doing some upgrades, but we really didn't know how much she would need it. Upon entering the front door, we grimaced as we examined the deep maroon floral printed fabric that adorned the dinette and sofa pillows. The white corian countertops and dinette table, while a nice material, glared against the aluminum and created a cold, yellowing effect with the cabinets above. We had our work cut out for us.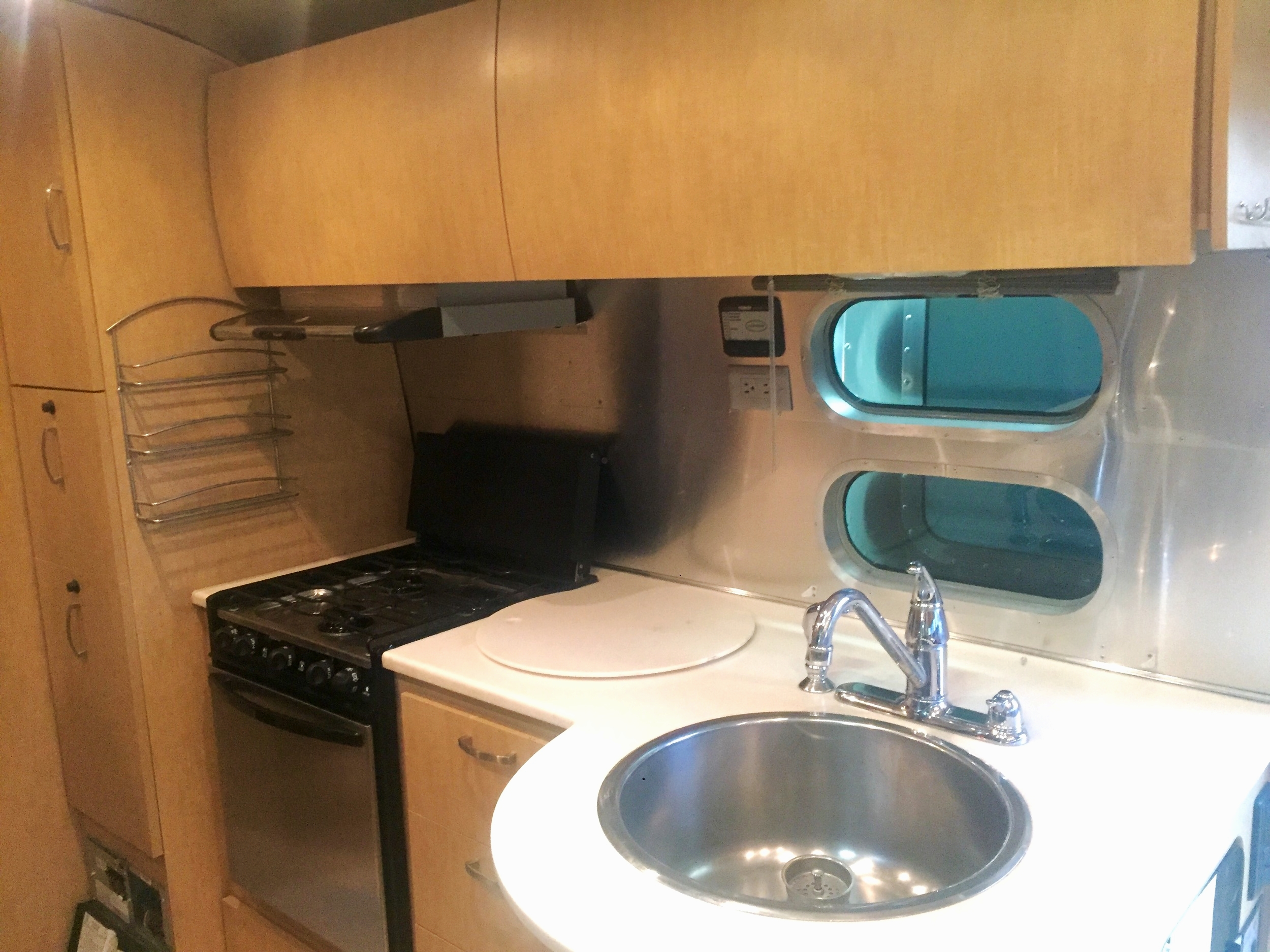 Luckily, there is an amazing company that provides custom work for Airstreams just down the road from our dealer and we immediately scheduled an appointment for them to come out for a consultation. I already had some ideas about what I wanted the interior to look like and it involved a lot of wood to re-create that modern rustic feel that is a perfect collaboration of our tastes. Mine being rustic and Shaun's being modern.
Our Ultimate Airstream contact guided us towards an affordable, yet perfect option of hickory patterned laminate with an aluminum accent trim for the kitchen countertops and dinette table. The surfaces have a textured effect like real wood, but are water and heat proof. They are also incredibly lightweight, which makes the dinette a bit sturdier than with the corian.
For the upholstery, we chose a shop just a few miles from our new set-up at Shaun's parents place - Keplers Upholstery. The fabric we settled on was named Concrete and is a heavy duty material, which we were told was virtually unstainable. We have a dog and love red wine, so we'll surely put that theory to the test.
After waiting four weeks for the trailer to be done, we finally made our way to Airstream Adventures for our final walk-thru and then spent the weekend setting everything up. We couldn't have been happier with the results! In addition to the countertops, table, and upholstery, we also had a subway tile backsplash installed in the kitchen and all of the lights replaced with LED lights. The latter being a practical choice, as LED's severely cut down on power use and make the trailer light up like a christmas tree when on.
It's been several weeks since we picked up our new home and we are falling more in love with our cozy little space every day. There is definitely something to be said for the concept of intentional ownership; we don't own much, but we really love what we do have. Every detail was thoughtfully cared for and no expense spared. I chose beautiful teak-wood kitchen utensils and fancy french stainless steel pots, a big steel french press for morning coffee, and every square inch is adorned in Pendleton Woolen Mills blankets, pillows, and towels. Shaun ensured that our perfect night's sleep was covered by researching and procuring us what is rated as one of or the very best mattress, a Casper mattress. There are still a few things I would still like to do, such as add hardware to all of the cabinets and install some plants between the vista windows and the main room windows, but all-in-all, we are fully set-up for our fast approaching maiden voyage across the US.